Pre-Eruption Warning Signals At Volcanoes: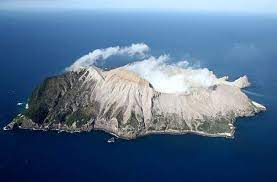 New research detected pre-eruption warning signals at Whakaari White Island and other active volcanoes, majorly from New Zealand.
Every volcano behaves differently, some have crater lakes while others are "dry", they have diverse magmas and rise to different elevations.
Despite these differences volcanoes such as Whakaari, Ruapehu and Tongariro in New Zealand could be driven to eruption by common processes in the shallow subsurface below their craters.
In the new research, machine learning was used to sift through 40 years of seismic data from the New Zealand volcanoes and three others around the world, listening for frequencies that track the depth where gas, magma or water are moving or building up.
Researchers saw one pattern repeatedly in the days before all the known Whakaari eruptions over the past decade, and most Ruapehu and Tongariro ones.
This pattern is a slow strengthening of a quantity called Displacement Seismic Amplitude Ratio (DSAR), which peaks a few days before each event.
DSAR is a ratio that compares the "activity" of fluids (gas, hot water, steam) at the volcano's surface to those several hundred metres deep. When DSAR increases, surface fluids are quiet, but deep ones are still actively moving and circulating vigorously below ground.
Seismic waves are the waves of energy caused by earthquakes or an explosion. They are the energy that travels through the earth and is recorded on seismographs.
This type of analysis is so new that the researchers have not had many chances to test how reliable the DSAR and other automated measures are for forecasting.
Whakaari and Ruapehu:
Whakaari:
Whakaari/White Island is in the Bay of Plenty, 43 miles west of Cape Runaway, eastern North Island, New Zealand is an active volcano.
It is the top of a submarine vent at the northern end of the Taupō-Rotorua Volcanic Zone.
With a total land area of about 1,000 acres, it rises to 1,053 feet at Mount Gisborne.
Scrub vegetation is common on much of the island.
The island was sighted and named by Capt. James Cook in 1769. It has numerous hot springs, geysers, and fumaroles, its last eruption, which took place in December 2019.
Ruapehu:
Mount Ruapehu is 2800m stratovolcano in New Zealand's central North Island.
It is also capped by a hydrothermal system and a warm crater lake (Te Wai a Moe).
The volcano is forested below its line of permanent snow cover. Above the line, glaciers flow from the peak. Within the crater lies a lake, which is drained by the Whangaehu River.
The temperature and level of its lake is known to vary in cycles, responding to changes in gas released into its base, local weather or the occasional formation of a gas seal.
The lake is so large it hides the surface activity that is useful for diagnosing volcanoes like Whakaari.