China-Indian Ocean Region Forum: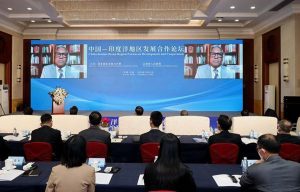 The China International Development Cooperation Agency (CIDCA), held a meeting of the China-Indian Ocean Region Forum in which 19 countries took part but not India.
Highlights of the Meet:
Theme: Shared Development: Theory and Practice from the Perspective of the Blue Economy.
Participating Countries: Indonesia, Pakistan, Myanmar, Sri Lanka, Bangladesh, Maldives, Nepal, Afghanistan, Iran, Oman, South Africa, Kenya, Mozambique, Tanzania, Seychelles, Madagascar, Mauritius, Djibouti, Australia and representatives of 3 international organisations were present.
India was reportedly not invited.
Marine Disaster Prevention and Mitigation Cooperation Mechanism:

China proposed to establish a marine disaster prevention and mitigation cooperation mechanism between China and countries in the Indian Ocean region.
China expressed its willingness to provide necessary financial, material, and technical support to countries in need.