6th Rashtriya Poshan Maah : Theme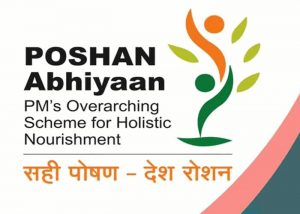 The Ministry of Women and Child Development (MoWCD) is celebrating the 6th Rashtriya Poshan Maah throughout September 2023.
Highlights About Poshan Maah 2023:
The focus is on comprehensively addressing malnutrition using a life-cycle approach, which is a key component of Mission Poshan 2.0.
The main objective is to raise awareness about critical life stages, including pregnancy, infancy, childhood, and adolescence, in order to promote better nutrition across India.
Theme: 'Suposhit Bharat, Sakshar Bharat, Sashakt Bharat' (Nutrition-rich India, Educated India, Empowered India), emphasising the importance of nutrition, education, and empowerment in building a healthier and stronger country.
During this month-long event, the MoWCD will lead nationwide efforts to raise awareness about nutrition, focusing on key themes such as Exclusive Breastfeeding and Complementary Feeding.
These efforts include activities like:

Swasth Balak Spardha (Healthy Child Competition) to encourage healthy competition for better nutrition and overall well-being.
Poshan Bhi Padhai Bhi (Nutrition and Education), improving nutrition through Mission LiFE (Lifestyle for Environment), sensitising tribal communities about nutrition, and addressing anaemia through a Test, Treat, Talk approach.
Poshan Abhiyaan:
It is a flagship initiative by the Government of India (GoI) for addressing malnutrition comprehensively.
This integration aims to create an integrated nutrition support program that enhances the content, delivery, outreach, and overall outcomes of nutritional services.
The primary focus is on promoting practices that improve health, wellness, and immunity against diseases and malnutrition.