Rashtriya Poshan Maah 2022: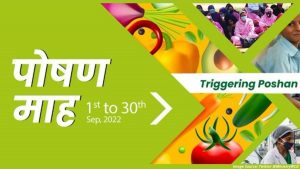 Ministry of Women and Child Development is celebrating 5th Rashtriya Poshan Maah 2022 from 1st to 30th September 2022.
This year, with the main focus on "Mahila aur Swasthya" and "Bacha aur Shiksha", Poshan Maah is to be started as Poshan Panchayat through Gram Panchayats.
Pregnant and lactating women, children below six years of age and adolescent girls will be given special attention in this month-long Poshan Maah.
Along with this, they will be made aware about the importance of nutrition through sensitization campaigns, outreach programs, and camps.
Awareness activities will be conducted at the Panchayat level by the concerned District Panchayati Raj Officers, CDPOs, local officials.
This time a national level toy manufacturing workshop will also be organized to promote the use of indigenous and local toys for teaching children in Anganwadi centers.
Under this program, the importance of rainwater harvesting will be emphasized among women at Anganwadi centers as well as information related to traditional food items for healthy mother and child in tribal areas will be provided.
Under the state level activities, 'Amma ki Rasoi' of traditional nutritious dishes will also be operated.
Also, extensive efforts will be made to integrate traditional foods with local festivals during Poshan Maah.