75 "Hunar Haat":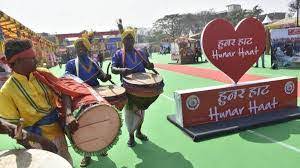 The Union Ministry of Minority Affairs has set a target to provide employment opportunities to 7 lakh 50 thousand artisans, craftsmen through 75 "Hunar Haat".
To be organised across the country, the 75 Haats will be a part of the 'Amrit Mahotsav' and will mark 75 years of India's Independence.
Also, 75 "Amrit Mahotsav Parks" will be constructed on the vacant Waqf lands across the country under "Waqf Taraqqiati Scheme" and "Pradhanmantri Jan Vikas Karykram" (PMJVK).
Hunar Haat is an exhibition of handicrafts and traditional products made by artisans from the minority communities.
Theme: Vocal for Local.
Organizer: These are organised by the Ministry of Minority Affairs under USTTAD (Upgrading the Skills & Training in Traditional Arts/Crafts for Development) scheme.
The USTTAD scheme aims to promote and preserve the rich heritage of the traditional arts & crafts of the minority communities.
Aim: These Haat aims to provide market exposure and employment opportunities to artisans, craftsmen and traditional culinary experts.

It envisages boosting the skills of craftsmen, weavers and artisans who are already engaged in the traditional ancestral work.
Significance:
'Hunar Haat' has proved to be an "Empowerment Exchange" for master artisans and craftsmen.
It has proved to be immensely beneficial and encouraging for artisans and craftsmen as lakhs of people visit the "Hunar Haat" and purchase indigenous handmade products of artisans on a large scale.
More than 5 lakh artisans, craftsmen and people associated with them have been provided employment and employment opportunities in the last about 5 years through "Hunar Haat".