40th Hunar Haat: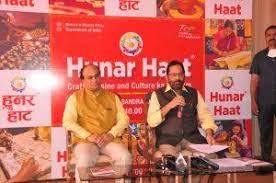 The 40th edition of the 'Hunar Haat' was inaugurated in Mumbai. In this edition, more than a thousand craftsmen and artisans coming from 31 states and Union Territories participated.
Hunar Haat has been conceptualized to protect and promote the country's ancestral legacy of arts and crafts in the current global competition and to support the traditional artisans and craftsmen.
The artisans selected in the Hunar Haat exhibition are those whose forefathers were involved in such traditional handmade work and are still continuing the profession.
Theme: Vocal for Local and "Best from Waste".
Aim: To provide market exposure and employment opportunities to artisans, craftsmen and traditional culinary experts.
Boosting the skills of craftsmen, weavers and artisans who are already engaged in the traditional ancestral work.
Organizer: These are organized by the Ministry of Minority Affairs under USTTAD (Upgrading the Skills & Training in Traditional Arts/Crafts for Development) scheme.
The USTTAD scheme aims to promote and preserve the rich heritage of the traditional arts & crafts of the minority communities.