Policy On Archiving, Declassification, And Compilation/publication Of War/Operations Histories: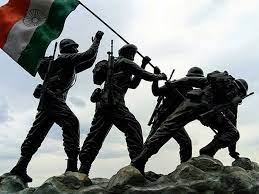 Raksha Mantri Rajnath Singh has approved the policy on archiving, declassification and compilation/publication of war/operations histories by the Ministry of Defence.
Features of Policy:
Each organization under the Ministry of Defence will transfer the records, including war diaries to the History Division of the Ministry of Defence (MoD) for proper upkeep, archival, and writing the histories.
According to the policy, records should ordinarily be declassified in 25 years.
Records older than 25 years should be appraised by archival experts and transferred to the National Archives of India once the war/operations histories have been compiled.
A committee headed by Joint Secretary, MoD and comprising of representatives of the Services, MEA, MHA and other organizations and prominent military historians (if required) should be constituted for compilation of war/ operations histories.
War/operations histories to be compiled within 5 years
The above-mentioned Committee should be formed within two years of completion of war/operations.
Thereafter, the collection of records and compilation should be completed in three years and disseminated to all concerned.