Hunar Haat: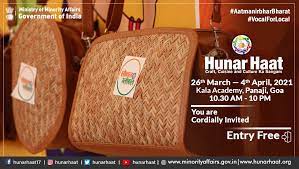 28th Edition of the Hunar Haat of indigenous products of artisans and craftsmen is being organized at Kala Academy in Panaji, Goa.
The event was started from March 26th and will conclude on April 4, 2021. It is being organized under the theme- "Vocal for Local".
According to Union Minister for Minority Affairs, Mukhtar Abbas Naqvi, "Hunar Haat" is a "Perfect, Popular and Proud Platform" to popularise the indigenous artistry and crafts across the country. The event will be formally inaugurated on March 27, 2021.
Hunar Haat
Hunar Haat is being organized by the Union Ministry of Minority Affairs where more than 500 artisans and craftsmen from 30 states and UTs have participated. Artisans and craftsmen from states like Assam, Andhra Pradesh, Delhi, Goa, Bihar, Chandigarh, Jharkhand, Gujarat, Karnataka, Manipur, Meghalaya, Madhya Pradesh, and other states have brought indigenous magnificent handmade products to showcase, sale and display at the event.
They will showcase products like Bidriware, Kalamkari, Madhubani Paintings, Udayagiri Wooden Cutlery, products made from cane-bamboo-jute, Tussar silk, Moonga Silk, Marble products, Leather products, Black Pottery, Handloom, etc.
Visitors will also enjoy traditional foods like Goa, Mughlai, South Indian, Punjabi, Malayali, Bengali food, etc at "Bawarchi Khana" in the event.