79th Grandmaster Title : Pranesh M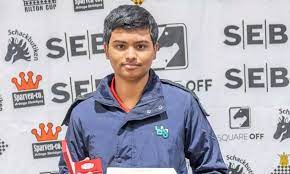 India has gained its 79th Grandmaster with the title being awarded to 16-year-old Pranesh M from Tamil Nadu.
Pranesh achieved the required 2500 ELO rating and won the Rilton Cup in the final round of the competition, which featured 136 players representing 29 national federations.
Pranesh finished in first place, while his compatriot and fellow Grandmaster, R Raja Rithvik, finished in eighth place with six points.
Pranesh won his first norm at the 18th Delhi GM Open in January 2020 and his second norm at the Sunway Sitges International Chess Festival in Spain in December 2021.
In November 2022, he won his third norm at the Asian Continental Chess Championship in Stockholm, Sweden, finally achieving the required ELO rating to become a Grandmaster.