International Day of Forests: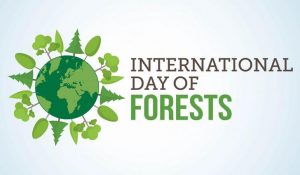 The United Nations observes March 21 as the International Day of Forests, commemorating the green cover around the world and reiterating its importance.
The theme for 2021 is "Forest restoration: a path to recovery and well-being".
This year's theme aims to emphasize how restoration and sustainable management of forests can help address climate change and the biodiversity crisis.
It can also help produce goods and services for sustainable development, fostering an economic activity that creates jobs and improves lives.
Themes of the International Day of Forests are aimed to fit into the UN Decade on Ecosystem Restoration (2021-2030), which calls for the protection and revival of ecosystems around the world.
The United Nations General Assembly proclaimed March 21 as the International Day of Forests (IDF) in 2012.
The Day is celebrated by the United Nations Forum on Forests and the Food and Agriculture Organization of the United Nations (FAO), in collaboration with governments, the Collaborative Partnership on Forests, and other relevant organizations in the field.