Bestu Varsh 2023 : Gujarati New Year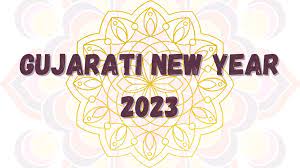 The Prime Minister of India has extended New Year greetings on the occasion of Gujarati New Year.
Gujarati New Year 2023, also known as Padwa or Bestu Varas, is being celebrated on November 14.
It is celebrated as part of the five-day Diwali Celebrations.
It ideally falls on Pratipada of Shukla Paksha in the Kartik month (Hindu calendar month).
The significance of this day is not just cultural but deeply linked with the financial aspect of the community.
Traditional account books, locally known as Chopda, see a ceremonial inauguration during Diwali Puja, seeking blessings from Goddess Lakshmi for a prosperous year ahead.
Chopda Pujan, a ritual where new account books are marked with auspicious symbols, sets the tone for a profitable financial year.
Bestu Varas is not just a change in date; it's a day of blooming desires and excitement.
It's a moment to retire the pains, sufferings, and memories of the past year and embrace the opportunities of the new one.
The air is filled with the fragrance of incense, and the atmosphere is charged with positivity as traditional customs and rituals unfold, bidding farewell to the bygone time.