8th Dakar International Forum On Peace And Security: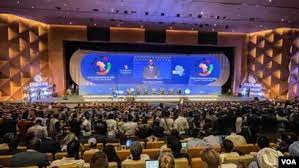 Minister of State for External Affairs, V. Muraleedharan has recently attended the 8th Dakar International Forum on Peace and Security in Africa.
This is the first time that India participated at the Ministerial level in the event.
It was formerly known as the Dakar Peace and Security Forum.
It annually brings together many African Heads of State and Government, international partners, as well as multiple actors of Peace and Security.
It was launched during the 2013 Élysée Summit organized by France.
The first edition of the forum was held in December 2014 in Dakar under the high patronage of Macky SALL, President of the Republic of Senegal.