ISRO successfully launches SSLV-D2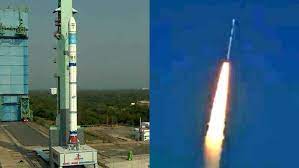 ISRO's Small Satellite Launch Vehicle SSLV-D2 carrying EOS-07, Janus-1 and AzaadiSAT-2 satellites was successfully launched from the Satish Dhawan Space Station, in Sriharikota.
AzaadiSAT-2 has been developed by about 750 girl students across India.
They contributed to the design and construction of the satellite built by Chennai-based startup Space Kidz India.
The girls received training both online and, in some cases, in-person.
Experiment materials were sent to these girls and they were guided on how to use it.
"SpaceKidz developed basic and simple experiments that students can learn and assemble with the simultaneous support of their science teachers.
It aims to measure various health data like temperature and reset count from 75 student experiments installed inside the satellite.