Infantry Day 2022: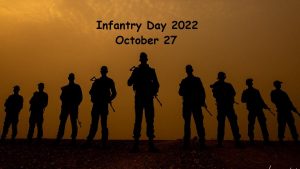 Infantry Day is commemorated on 27 October every year.
It aims to acknowledge the contributions of Infantry, the largest fighting arm of the Indian Army.
This day is commemorated to honour the brave soldiers of the infantry who fought and laid down their lives during the India-Pakistan war in 1947.
The operation was started on October 27, 1947; to protect the people of Kashmir from the Pakistani invaders after Maharaja Hari Singh of Kashmir had signed the Instrument of Accession of Kashmir to India.
The Indian Air force carried out the task of flying the troops of 1st Sikh Regiment into Srinagar on this day.