Achanakmar Tiger Reserve : Recover Big Cat Numbers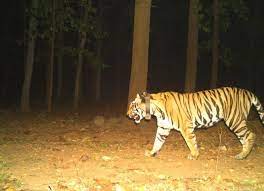 The officials in Achanakmar Tiger Reserve have been trying to recover big cat numbers.
A recent NTCA report found Chhattisgarh had only 17 tigers compared to 46 in 2014.
Tracking teams inside Achanakmar Tiger Reserve in Chhattisgarh are undertaking a grueling task keeping tabs on a tigress released in April 2023 to augment the reserve's falling population of the big cat.
Achanakmar Tiger Reserve:-
Location: Bilaspur, Chhattisgarh. (Indravati Tiger Reserve)
Area: approximately 553.286 sq. Km.
It is a part of the huge Achanakmar-Amarkantak Biosphere Reserve.
Mountain Ranges: Maikal mountain range
Water bodies: Maniyari River.
In 1975, Achanakmar Wildlife Sanctuary was established, under the provisions of the Indian Wildlife Protection Act of 1972.
In 2005, the Achanakmar-Amarkantak Biosphere Reserve was created by the Government of India.
It was declared a tiger reserve in 2009.
Achanakmar-Amarkantak Biosphere Reserve was recognized by UNESCO in 2012 for its biological diversity and cultural significance.