e-Bill Processing System: Key Points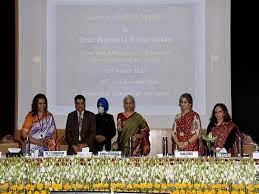 The Finance Minister launched the E-bill Processing system on the occasion of 46th Civil Accounts Day (1st March).
It was announced in the Union Budget 2022 to use the technology for facilitating the financial inclusion drive in India.
The "Civil Accounts Day" is observed every year to mark the anniversary of the inception of the Indian Civil Accounts Service (ICAS) on 1st March , 1976.
The ICAS performs a key role in delivery of financial management services for the Government of India (GoI).
E-bill system is part of Ease of Doing Business (EoDB) and Digital India Eco-System' to bring in broader transparency and expedite the process of payments.
In simple words, e-Bill Processing System is a way of transacting the bills digitally rather than the traditional use of paper.
Currently, the suppliers of various goods and services to the Government have to submit physical, ink signed copies of their bills to the respective Ministries/Departments/offices of the Government of India.
Customers will be able to get their bills online, via e-mail, or in the machine-readable data forms when billed electronically.
Under the newly launched e-Bill system, vendors/suppliers can upload their bills online along with supporting documents from the convenience of their homes/offices at any time through digital signature.
At the backend too, the electronic bill received will be processed by the authorities digitally at every stage and finally, the payments will be credited digitally to the bank account of the vendor.
Developed by the Public Financial Management System (PFMS) Division in the office of the Controller General of Accounts in the Department of Expenditure, Ministry of Finance.