Adjournment Motion: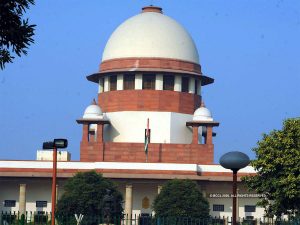 The Shiromani Akali Dal (SAD) has decided to move an adjournment motion in the Lok Sabha against the government on the three controversial farm laws, over which it walked out of the NDA government.
The motion requires the signatures of 50 MPs to be admitted.
The laws — the "Farmers' Produce Trade and Commerce (Promotion and Facilitation) Act, 2020, the "Farmers (Empowerment and Protection) Agreement of Price Assurance and Farm Services Act, 2020 and the "Essential Commodities (Amendment) Act, 2020" were cleared by Parliament last year and have seen sustained protests from farmers groups at the doorstep of Delhi.
While the Central government has held several rounds of talks, these have been unsuccessful at breaking the logjam, as the government has firmly refused to take back the Acts.
About Adjournment Motion:
Adjournment motion is introduced only in the Lok Sabha to draw the attention of the House to a definite matter of urgent public importance.
It involves an element of censure against the government, therefore Rajya Sabha is not permitted to make use of this device.
It is regarded as an extraordinary device as it interrupts the normal business of the House. It needs the support of 50 members to be admitted.
The discussion on this motion should last for not less than two hours and thirty minutes.