PM Poshan Scheme: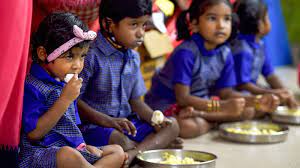 The Union Cabinet has approved the Prime Minister POSHAN scheme or PM-POSHAN for providing one hot cooked meal in Government and Government-aided schools.
The scheme will replace the existing national programme for mid-day meal in schools or Mid-day Meal Scheme.
It has been launched for an initial period of five years (2021-22 to 2025-26).
PM POSHAN:
The scheme will cover 11.8 crore students enrolled in classes 1 to 8 in over 11.2 lakh schools across the country.
Primary (1-5) and upper primary (6-8) schoolchildren are currently entitled to 100 grams and 150 grams of food grains per working day each, to ensure a minimum of 700 calories.
The scheme will be extended to students studying in pre-primary or Balvatikas running in government and government aided primary schools.
Balvatika is the pre-school that was started in government schools last year to include children aged younger than six years in the formal education system.
Nutritional Gardens:
The government will promote nutritional gardens in schools. The gardens are being provided to offer additional micro-nutrients to students.
Supplementary Nutrition:
The new scheme has a provision for supplementary nutrition for children in aspirational districts and those with high prevalence of anaemia.
It does away with the restriction on the part of the Centre to provide funds only for wheat, rice, pulses and vegetables.
Currently, if a state decides to add any component like milk or eggs to the menu, the Centre does not bear the additional cost. Now that restriction has been lifted.