World Investment Report 2023: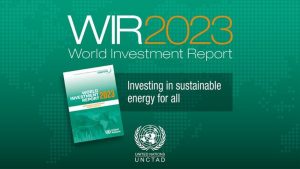 The United Nations Conference on Trade and Development (UNCTAD) published its World Investment Report 2023.
Key findings:
India and ASEAN were the most buoyant recipients of the Foreign direct investment (FDI), with increases of 10 and 5%, respectively.
FDI inflows were higher in developing countries compared with those in developed economies.
China, the second largest FDI host country in the world, saw a 5% increase.
FDI in the Gulf region declined, but the number of project announcements increased by two thirds.
Inflows in many smaller developing countries were stagnant, and FDI to the least developed countries (LDCs) declined.
Much of the growth in international investment in renewable energy has been concentrated in developed countries.
The investment gap across all sectors of the Sustainable Development Goals has increased to more than $4 trillion per year from $2.5 trillion in 2015.
The largest gaps are in energy, water and transport infrastructure.
United Nations Conference on Trade and Development:
It is a permanent inter-governmental body established by the United Nations General Assembly in 1964.
It is responsible for dealing with development issues, particularly international trade.
Framing policies in various domains such as trade, technology, finance, aid, and transport are the most important priorities of UNCTAD.