Advisory To The Print Media On Paid News : Press Council Of India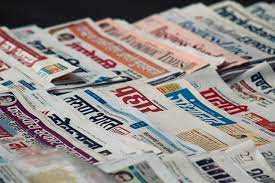 The Press Council of India (PCI) recently issued an advisory to the print media on 'paid news'.It says newspapers should not misconstrue or misquote the statements given by any leader
Political news published in competing newspaper with similar content strongly suggests such reports to be paid news.
Two newspapers publishing same news item verbatim during election days is not accidental and it is evident that such news items have been published for consideration.
The manner of presentation of a news item/photograph that too in favour of a particular party/candidate as also the appeal for voting in favour of a particular party is suggestive of paid news
The Council said projecting a candidate's success in election, who was yet to file a nomination, was also suggestive of paid news.
News reports on campaign meeting and enthusiasm because film stars were present cannot be termed paid news.
Press Council of India (PCI):
The PCI was first set up in 1966 by the parliament on the recommendations of the First Press Commission under the chairmanship of Justice J.R Mudholkar.
The present council functions under the Press Council Act 1978.
It is a statutory, quasi-judicial body that acts as a watchdog of the press in India.
Primary Function: To check the media practice and to keep an eye on the freedom of the press.