AFSPA Withdrawn From Parts Of Three Northeast States: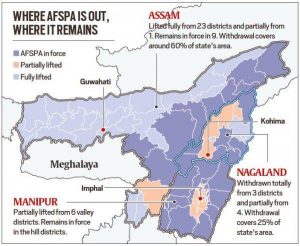 The Union Government has partially withdrawn the Armed Forces Special Powers Act (AFSPA), 1958 from parts of three Northeast states— Assam, Nagaland and Manipur.
Currently, AFSPA remains in force in parts of these three states as well as in parts of Arunachal Pradesh and Jammu & Kashmir.
AFSPA gives sweeping powers to the armed forces.
It allows them to open fire, even causing death, against any person in contravention to the law or carrying arms and ammunition.
Also, it gives them powers to arrest individuals without warrants, on the basis of "reasonable suspicion", and search premises without warrants.
It can be imposed by the Centre or the Governor of a state, on the state or parts of it, after these areas are declared "disturbed'' under Section 3.
The Act was amended in 1972 and the powers to declare an area as "disturbed" were conferred concurrently upon the Central government along with the States.
Currently, the Union Home Ministry issues periodic "disturbed area" notification to extend AFSPA only for Nagaland and Arunachal Pradesh.
The notification for Manipur and Assam is issued by the State governments.
Tripura revoked the Act in 2015 and Meghalaya was under AFSPA for 27 years, until it was revoked by the MHA from 1st April 2018.