Air Traffic Management System: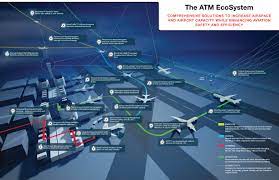 The Airports Authority of India (AAI), under its R&D initiative, has signed an agreement with Bharat Electronics Limited (BEL) to jointly develop indigenous Air Traffic Management System.
Under this Agreement, BEL and AAI will jointly develop Civil Air Traffic Management System (ATMS) with Advanced-Surface Movement Guidance and Control System (ASMGCS), a complex ground surveillance system that manages air traffic at airports and in Indian Civil Airspace for safe operation of flights from take-off to landing.
Air traffic management and control primarily involves the control of traffic in and around airports, airport terminals and airspace.
Air traffic controllers that work from Air Traffic Control (ATC) towers are responsible for ensuring a safe distance between all aircraft, both in the air and on the ground, to prevent accidents.
Air traffic controllers prevent collisions and maintain an orderly flow of air traffic
It will help in leveraging the complementary strengths and capabilities of BEL and AAI and enabling both to address airport modernization opportunities.
It will ensure safety, maintain separation between multiple aircraft, and efficient management of operations at the airport and Indian airspace.
It aims to upgrade its ANS (Air Navigation Services) Infrastructure in systematic, efficient and cost-effective manner and in compliance with the 'Atma Nirbhar Bharat' missions of the Government of India.
It will reduce AAI's foreign dependency for procurement of ANS infrastructure.