Akasa Air: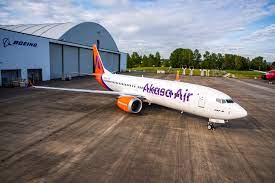 First Flight of Akasa Air from Mumbai to Ahmedabad inaugurated.
Akasa Air is the 7th schedule airline with brand name of SNV Aviation having Corporate Headquarters at Mumbai with Boeing Max – 8 aircraft.
Akasa Air plans to be a low-cost carrier with single fleet and all economy seats.
Akasa Air is planning to expand its activities to 72 aircrafts in next five years which will significantly enhance the domestic aviation services in India.
Akasa Air is the first major airline to take to the skies in seven years since Tata Sons- Singapore Airline joint venture Vistara started operations in 2015.
Though there have been several new regional carriers, some have shut shop, and a few others have suspended flights due to cash crunch.
The airline is founded by billionaire Rakesh Jhunjhunwala along with aviation veterans Vinay Dube, who was the CEO of Jet Airways until it closed down in April 2019, and Aditya Ghosh, who earlier helmed IndiGo.