Amrit Bharat Station Scheme: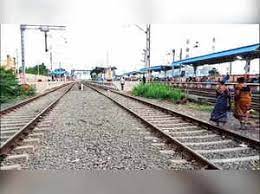 Railways plans to modernise 1,000 small stations under Amrit Bharat Station Scheme.
This is apart from the ambitious plan to revamp 200 big stations under a separate redevelopment programme.
The aim is to identify developing cities with potential and envisage railway stations as city centres that would link not just various parts of the city but also between different cities in the future.
According to need, the divisional railway managers will take a call on modernisation works in a phased manner
These stations will be redeveloped under what is being internally called the "Khurda model of redevelopment".
Khurda station in Odisha has been modernised for Rs 4 crore with all contemporary amenities for passengers.
The main structure was renovated, the facade was redone and the number of railway tracks was also increased.
Modernisation of these stations would include improved station approaches to ensure smooth access by widening roads, removal of unwanted structures, properly designed signages, dedicated pedestrian pathways, well-planned parking areas, and improved lighting among others.
Elements of landscaping, green patches and local art and culture should be used to create a pleasant experience for the station users.