Pavana River : Thick Layer Of Toxic Foam Seen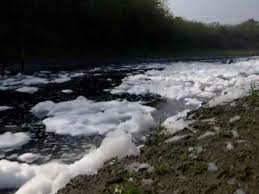 Citizens and environmental activists have expressed concern over the thick layer of toxic foam seen on the Pavana River recently
Pavana River is situated in the west of Maharashtra state, in the Pune District.
The river is a notable river that crosses Pune City and divides Pune City and the Pimpri-Chinchwad area.
It originates from the Western Ghats, about 6 km south of Lonavala.
It is a tributary of the Bhima Riverand merges with the Mula River in Pune city.
Flowing eastward initially, it becomes southbound and passes through the suburbs of Dehu, Chinchwad, Pimpri, and Dapodi before its confluence with the Mula River.
A dam is built on this river at Pavana Nagar, called the "Pavana Nagar Dam".