Helina And Dhruvastra: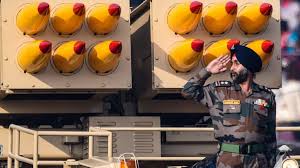 India has successfully test-fired indigenously-developed anti-tank guided missile systems 'Helina' and 'Dhruvastra' in the Pokhran range, Thar desert (Rajasthan).
The Helina (the Army version) and Dhruvastra (Indian Airforce version) are helicopter-launched versions of third-generation anti-tank guided missiles (the Nag missile system).
The missile system has the all-weather day-and-night capability and can defeat battle tanks with conventional armor and explosive reactive armor.
The missile systems have been designed and developed indigenously by the Defence Research and Development Organisation (DRDO).
The 'Helina' and 'Dhruvastra' can engage targets both indirect hit mode as well as top attack mode.
The missile is required to climb sharply after launch and travel at a certain altitude, then plunge on top of the target.
Direct Attack Mode: The missile travels at a lower altitude, directly striking the target.