PASSEX Exercise: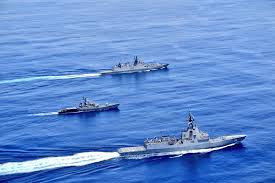 The Indian and the Indonesian navies held the PASSEX military exercise in the Arabian sea on February 18, 2021. This military exercise was organized in order to enhance operational interoperability and overall cooperation.
INS Talwar represented the Indian naval ship.
The Indonesian Navy was represented by the multirole corvette KRI Bung Tomo.
India's maritime cooperation
India's maritime cooperation with Indonesia has gained momentum in the last few years. Indian Navy also participated in several maritime exercises notwithstanding the covid-19 pandemic.
It held maritime exercises with countries like Russia, Japan, Australia, and the US.
Recently, in November 2020, India hosted the Malabar exercise. In the exercise, the navies of the US, Japan, and Australia took part.
India had also invited Australia for the Malabar exercise in November 2020 to make the Malabar drill for all the Quad members.