Modhera : First Solar-Powered Village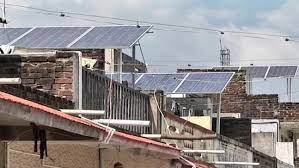 Prime Minister Narendra Modi will be declaring Modhera in Gujarat as a 24 x 7 solar-powered village 
Modhera will be India's first village to become a net renewable energy generator.
It will be the first modern village to have a solar-based ultra-modern electric vehicle charging station.
It is India's first grid-connected megawatt-hours (MWh) scale battery energy storage system.
People in Modhera would be saving 60% to 100 % on electricity bills.
The heritage lighting and 3-D projection at the Sun Temple would operate on solar energy.
The 3-D projection will inform visitors about the history of Modhera.