Apache Attack Helicopter: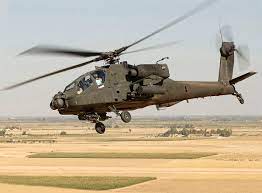 The Indian Army is preparing to induct six Apache attack helicopters armed with Stinger air-to-air missiles, Hellfire Longbow air-to-ground missiles, guns, and rockets.
Apache Attack Helicopter is the world's most advanced multi-role combat helicopter.
Country of Origin is United States
Manufacturer by Boeing
It is also known as the Apache Guardian.
The AH-64E attack helicopter is the latest version of the Apache used by the US Army.
Other purchasers: India, Egypt, Greece, Indonesia, Israel, Japan, South Korea, Kuwait, Netherlands, Qatar, Saudi Arabia, Singapore, UAE, and the UK.
AH-64E Apache is designed and equipped with open systems architecture to incorporate the latest communications, navigation, sensor, and weapon systems.
It has greater thrust and lift, joint digital operability, improved survivability, and cognitive decision-aiding.
The AH-64E includes a new integrated infrared laserthat allows for easier target designation and enhanced infrared imagery that blends infrared and night vision capabilities..