Light Combat Helicopter: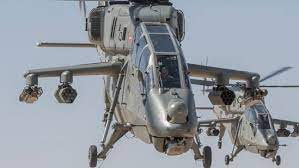 The Indian Air Force (IAF) is set to induct its first batch of indigenously-developed Light Combat Helicopter (LCH) in a major boost to its combat prowess.
The indigenous Light Combat Helicopter (LCH) is set to be formally inducted into the Indian Air Force (IAF) at the Jodhpur air base.
It is the only attack helicopter in the world which can land and take off at an altitude of 5,000 meters with a considerable load of weapons and fuel, meeting the specific requirements laid out by the Indian Armed Forces.
It has the maximum take-off weight of 5.8 tonnes, maximum speed of 268 kilometers per hour, range of 550 kilometers, endurance of over three hours and service ceiling — the maximum density altitude to which it can fly — of 6.5 kilometres.
The helicopter uses radar-absorbing material to lower radar signature and has a significantly crash-proof structure and landing gear.
A pressurised cabin offers protection from nuclear, biological and chemical (NBC) contingencies.
The helicopter is equipped with a countermeasure dispensing system that protects it from enemy radars or infrared seekers of the enemy missiles.
As far as weapons systems are concerned, a 20 mm turret gun, 70 mm rockets and air-to-air missile systems are onboard.
LCH is powered by two French-origin Shakti engines manufactured by the HAL.