Remembering Pulwama Attack: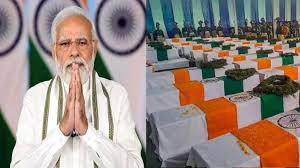 Pulwama district is in Jammu and Kashmir. In 2023, the CPRF marked the fourth anniversary of its fellowmen.
The Pulwama Attack killed more than 40 CPRF personnel on February 14, 2019.
The Jaish-e-Mohammed terrorist group claimed responsibility for the attack.
The attack was conducted by a vehicle-borne suicide bomber.
The UN and several other countries condemned the attack
India launched the Balakot Airstrike in response to the Pulwama attack.
During the airstrike, The IAF dropped bombs into Balkot and blasted the training camps of Jaish-e-Mohammed.
Around 300 to 350 terrorists were killed during the operation. India conducted the strikes crossing the Line of Control!