Panna Tiger Reserve: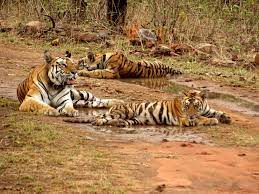 A delegation of senior forest officers and frontline staff from Cambodia came for training at Panna Tiger Reserve (PTR) and studied India's tiger reintroduction programme and all its aspects.
Panna Tiger Reserve is a critical tiger habitat located in the Vindhyan mountain range in the northern part of Madhya Pradesh.
It was declared a Project Tiger Reserve by the Government of India in 1994
It is characterised by a 'Table Top' topography.
It consists of extensive plateaus and gorges.
Ken River flows from south to north through the reserve.
The dominant vegetation type is dry deciduous forest interspersed with grassland areas.
It supports a sizable population of Sloth Bear, Leopard, and Striped Hyena.
Other prominent carnivores are Jackal, Wolf, Wild Dog, Jungle Cat, and Rusty Spotted Cat.