Arhtiyas : To Go On Indefinite Strike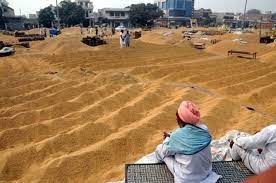 The arhtiyas recently threatened to go on indefinite strike in the major fruit mandis in Himachal Pradesh to protest against the government's decision to sell apples by weight.
Arhtiyas" refers to commission agents or middlemen in the agricultural sector.
Arhtiyas procure agricultural produce from farmers either directly from the farm or at local agricultural markets (mandis).
They often provide credit to farmers to meet their immediate financial needs, including inputs for the next cropping season or personal expenses.
Arhtiyas may offer warehousing facilities for the storage of agricultural commodities.
They facilitate the sale of agricultural produce to wholesale buyers, such as government agencies or private traders, on behalf of the farmers.
Arhtiyas charge a commission for their services, usually a percentage of the transaction valu The commission rates can vary depending on the region, crop, and prevailing market conditions.
They play a significant role in the traditional agricultural marketing system, particularly in states like Punjab, Haryana, and Uttar Pradesh.