Gaza Strip : Air Strike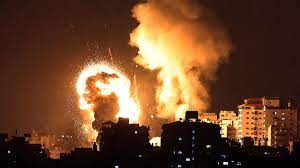 The recent air strikes by Israel in the Gaza strip have killed 13 Palestinians. Three of them are commanders of the militant group Islamic Jihad.
The Gaza Strip or simply Gaza, is a Palestinian enclave on the eastern coast of the Mediterranean Sea.
It borders Egypt on the southwest for 11 kilometers (6.8 mi) and Israel on the east and north along a 51 km (32 mi) border.
The Gaza Strip and the West Bank are claimed by the de jure sovereign State of Palestine.
The territories of Gaza and the West Bank are separated from each other by Israeli territory.
Both fell under the jurisdiction of the Palestinian Authority, but the Strip has, since the Battle of Gaza in June 2007, been governed by Hamas, a militant, Palestinian, fundamentalist Islamic organization, which came to power in the last-held elections in 2006.
It has been placed under an Israeli and US-led international economic and political boycott from that time onwards.