ASTRA Missile: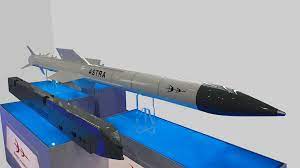 Tejas, Light Combat Aircraft (LCA) LSP-7 successfully fired the ASTRA off the coast of Goa on August 23, 2023.
ASTRA Missile is an indigenous Beyond Visual Range (BVR) air-to-air missile

It is to engage and destroy highly manoeuvring supersonic aerial targets.

It is designed and developed by the Defence Research and Development Laboratory (DRDL), Research Centre Imarat (RCI) and other laboratories of DRDO.
The indigenous Astra BVR firing from homegrown Tejas fighters is a major step towards 'Aatmanirbhar Bharat'.
LCA Tejas:
It is the lightest, smallest and tailless multi-role supersonic fighter aircraft in its class.
This aircraft is designed to carry a range of air-to-air, air-to-surface, precision-guided weapons.
It has the air-to-air refuelling capability.
The maximum payload capacity of Tejas is 4000 kg.
Speed: Mach 1.8.