QS World University Rankings 2022: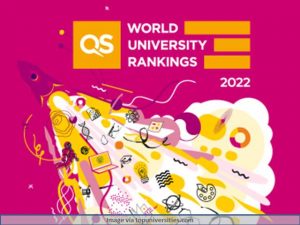 QS World University Rankings 2022 shows that India's tally in the top 200 universities hasn't changed for the fifth straight year.
Global Rankings:
Massachusetts Institute of Technology (MIT) of the US is the top university for the 10th consecutive year.
The University of Oxford (UK) has risen to second rank for the first time since 2006, while Stanford University (US) and the University of Cambridge (UK) share third spot.
Asian Institutions:
Singapore's National University of Singapore and Nanyang Technological University, and China's Tsinghua University and Peking University, are the only Asian universities in the global top 20.
Indian Institutions:
Overall, there are 22 Indian institutions in the top 1,000 list compared to 21 in the 2021 Rankings, with the Indian Institutes of Technology (IITs) in Guwahati, Kanpur, Kharagpur and Madras making major strides in rankings.
Jawaharlal Nehru University has entered the top 1,000 of the rankings for the first time, as its new undergraduate engineering program now makes it eligible for the rating.
IIT Bombay maintained its position as the top Indian institution for the fourth consecutive year, although it fell five places in the global rankings to the joint 177th position.
IIT Delhi (185 ranks) overtook the Indian Institute of Science, Bangalore (186 ranks), giving India three institutions in the world's top 200.
IISc was also declared the world's top research university by the indicator of most citations per faculty member when adjusted for faculty size.
QS World University Rankings:
Quacquarelli Symonds (QS) is a leading global career and education network for ambitious professionals looking to further their personal and professional development.
QS develops and successfully implements methods of comparative data collection and analysis used to highlight institutions' strengths.
The 'QS World University Rankings is an annual publication of university rankings which comprises the global overall and subject rankings.