Astrobee : NASA's New Free-Flying Robotic System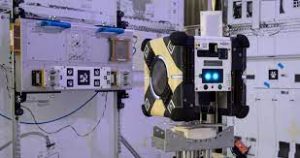 Astrobee is NASA's new free-flying robotic system.
Astrobee also consists of a system that serves as a research platform that can be outfitted and programmed to conduct microgravity experiments.
The three free-flying robots are named Honey, Queen, and Bumble.
The robots are shaped like cubes 12.5 inches wide.
The Astrobee system consists of three cube-shaped robots, some software and a docking charging station used for recharging. They are about 32 centimetres wide.
The three robots propel themselves using electric fans that allow them to fly through the microgravity environment of the International Space Station.
The Astrobee robots are built on the knowledge acquired from operating SPHERES (Synchronised Position Hold, Engage, Reorient, Experimental Satellite) robots which have been operating on the International Space Station for over a decade.