Soaring Eagle Exercise : South Korea Air Force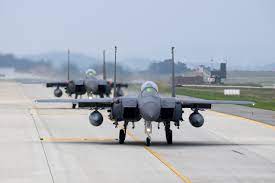 The South Korea Air Force recently commenced the Soaring Eagle exercise, a large-scale training program aimed at enhancing its combat capabilities and ensuring the country's defense posture.
The exercise comes amidst heightened tensions on the Korean Peninsula following North Korea's firing of a purported solid-fuel intercontinental ballistic missile.
The Soaring Eagle exercise began at the Cheongju air base, situated 112 kilometers south of Seoul.
Over 160 personnel and nearly 60 warplanes, including F-35A stealth fighters, F-15Ks, KF-16s, and KC-330 tanker transport aircraft, were mobilized for the exercise.
The Soaring Eagle exercise plays a vital role in equipping the South Korea Air Force with swift response capabilities against increasing enemy provocations and threats.
It allows the Air Force to verify its strike capabilities against various threat targets, ensuring optimal operational readiness.