Awaous Motla : Edible Freshwater Fish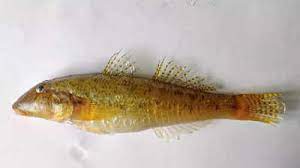 A group of scientists discovered an edible freshwater fish available in the markets of western Odisha.
Awaous Motla is a fish with a vibrant yellow-coloured body and a fleshy upper lip.
It was collected from the Mahanadi River.
The discovery was made during the ongoing research project funded by the Department of Science and Technology of the Odisha government.
The species belongs to the family 'Awaous' (Oxudercidae) and is thus named 'Awaous motla.