Hindi Diwas: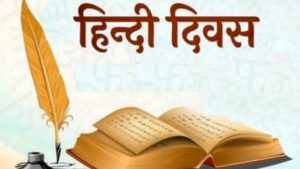 Hindi Diwas is being celebrated across the country on September 14.
On the occasion of Hindi Diwas, Prime Minister of India has said that the Hindi language has brought India special honour globally and its simplicity and sensitivity always attracts people.
Hindi Diwas or the National Hindi Day is celebrated every year in India on September 14 to mark the day of adoption of Hindi as the official language by the Constituent Assembly of India in 1949.
The decision of using Hindi as an official language of India was legalised by the Constitution of India on January 26, 1950.
India's first prime minister Jawaharlal Nehru decided to celebrate Hindi Diwas on this day.
Hindi is also an eighth schedule language.
Hindi is not a classical language.
Article 351 pertains to the 'Directive for development of the Hindi language'.
Hindi is the fourth most spoken language in the world, and is written in Devanagari script.
The language got its name from the Persian word 'Hind' – meaning 'land of the Indus River', and is a descendant of Sanskrit.