AXIOM MISSION 1 (AX 1):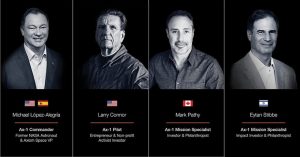 A former Israeli fighter pilot, an American technology entrepreneur, and a Canadian investor will be part of the crew of the first entirely-private orbital space mission.
The three men are paying $55 million each to fly aboard a SpaceX rocket for an eight-day visit to the International Space Station, organized by Houston-based spaceflight firm Axiom.
The Axiom Mission 1 (AX 1) flight is being arranged under a commercial agreement with NASA.
The mission will be led by former NASA astronaut Michael Lopez-Alegria, who now works for Axiom space.
While private citizens have traveled to space before, the AX 1 mission will be the first to use a commercially built spacecraft, the SpaceX Dragon 2, best known for flying its first two crews to the ISS late last year.
Private civilians have travelled to the space station beforealso.
Since 2001, Russia has been selling rides to the ISS to wealthy businessmen around the world.
They traveled onboard the Russian Soyuz aircraft along with professional cosmonauts and NASA astronauts.