Mekedatu Dam Project: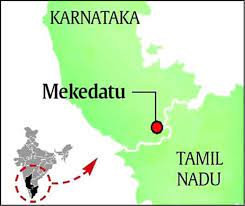 The Centre has given its assurance that Karnataka will not be allowed to carry out any construction on the Mekedatu dam project on the Cauvery river until its Detailed Project Report (DPR) is approved by the Cauvery Water Management Authority (CWMA).
Mekedatu, meaning goat's leap, is a deep gorge situated at the confluence of the rivers Cauvery and its tributary Arkavathi.
The project aims to store and supply water for drinking purposes for the Bengaluru city. Around 400 megawatts (MW) of power is also proposed to be generated through the project.
However, Tamil Nadu objected saying that the project would affect the flow of Cauvery water to Tamil Nadu. Tamil Nadu also argues that the project is against the final order of the Cauvery Water Disputes Tribunal (CWDT) in which the SC held that no state can claim exclusive ownership or assert rights to deprive other states of the waters of inter-state rivers.
Cauvery River:
Origin: River rises on Brahmagiri Hill of the Western Ghats in south-western Karnataka state.
The river basin covers three states and a Union Territory: Tamil Nadu, 43,868 square kilometres, Karnataka, 34,273 square kilometres l, Kerala, 2,866 square kilometres and Puducherry.
Key tributaries: Hemavati, Lakshmantirtha, Kabini, Amaravati, Noyil, and Bhavani rivers.
Falls along the way: Upon entering Tamil Nadu, the Kaveri continues through a series of twisted wild gorges until it reaches Hogenakal Falls.
Dams: There the Mettur Dam was constructed for irrigation and hydel power in Tamil Nadu.