Bad Bank: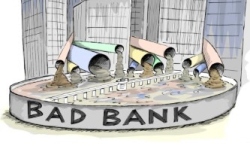 A key proposal announced in this year's (2021) Budget, a bad bank to deal with stressed assets in the loss-laden banking system, has received all regulatory approvals.
Setting up of NARCL, the proposed bad bank for taking over stressed assets of lenders, was announced in the Budget for 2021-22.
The plan is to create a bad bank to house bad loans of ₹500 crore and above, in a structure that will contain an asset reconstruction company (ARC) and an asset management company (AMC) to manage and recover dud assets.
The new entity is being created in collaboration with both public and private sector banks.
Majority-owned by state-owned banks, the NARCL will be assisted by the India Debt Resolution Company Ltd (IDRCL), in turn majority-owned by private banks, in resolution process in the form of a Principal-Agent basis.
The proposed bad bank will have a public sector character since the idea is mooted by the government and majority ownership is likely to rest with state-owned banks.
At present, ARCs typically seek a steep discount on loans. With the proposed bad bank being set up, the valuation issue is unlikely to come up since this is a government initiative.
The government-backed ARC will have deep pockets to buy out big accounts and thus free up banks from carrying these accounts on their books.
Asset Reconstruction Company (ARC):
It is a specialized financial institution that buys the Non-Performing Assets (NPAs) from banks and financial institutions so that they can clean up their balance sheets. This helps banks to concentrate on normal banking activities.
The asset reconstruction companies or ARCs are registered under the RBI.