Forex Reserves: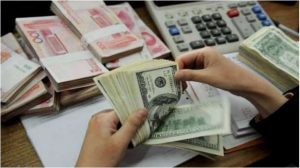 According to recent data from Reserve bank of india (RBI), India's Foreign Exchange (Forex) reserves posted a decline of USD 678 million during the week ended 21st January 2022 to reach USD 634.287 billion.
The slip in the reserves was on account of a drop in the Foreign Currency Assets (FCA), a vital component of the overall reserves. FCA declined by USD 1.155 billion to USD 569.582 billion in the reporting week.
Gold reserves saw an increase of USD 567 million to USD 40.337 billion in the reported week.
The Special Drawing Rights (SDRs) with the International Monetary Fund (IMF) fell USD 68 million to USD 19.152 billion.
Foreign Exchange Reserves:
Foreign exchange reserves are assets held on reserve by a central bank in foreign currencies, which can include bonds, treasury bills and other government securities.
It needs to be noted that most foreign exchange reserves are held in US dollars.
India's Forex Reserve include:

Foreign Currency Assets
Gold reserves
Special Drawing Rights
Reserve position with the International Monetary Fund (IMF).

Objectives of Holding Forex Reserves:

Supporting and maintaining confidence in the policies for monetary and exchange rate management.
Provides the capacity to intervene in support of the national or union currency.
Limits external vulnerability by maintaining foreign currency liquidity to absorb shocks during times of crisis or when access to borrowing is curtailed.

Significance of Rising Forex Reserves:

The rising forex reserves give comfort to the government and the RBI in managing India's external and internal financial issues.
It serves as a cushion in the event of a Balance of Payment (BoP) crisis on the economic front.
The rising reserves have also helped the rupee to strengthen against the dollar.
Reserves will provide a level of confidence to markets and investors that a country can meet its external obligations.