Baguette : UN's List Of Intangible Cultural Heritage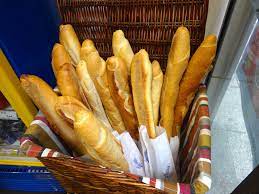 Baguette ,the staple French bread was recently inscribed into the UN's list of intangible cultural heritage (ICH).
The baguette is a long and thin loaf made of flour, water, salt and yeast, and is consumed as a staple in France.
Some believe that it was invented by August Zang, a baker and an entrepreneur from Vienna in 1839.
In March 2021, France nominated the baguette as its candidate for consideration within the UNESCO ICH list. It drew attention to the steady decline in the number of bakeries in the country as around 20,000 of them have closed down since 1970.
Intangible cultural heritage:
UNESCO defines "intangible" as "expressions that have been passed from one generation to another, have evolved in response to their environments and contribute to giving us a sense of identity and continuity…"
'Intangible cultural heritage' includes "oral traditions, performing arts, social practices, rituals, festive events, knowledge and practices concerning nature and the universe or the knowledge and skills to produce traditional crafts."
There are three criteria for an intangible cultural heritage to be inscribed in the United Nations list.
The entity must

be recognized by communities, groups and, in some cases, individuals as part of their cultural heritage
be transmitted from generation to generation and be constantly recreated by communities and groups in response to their environment, their interaction with nature and their history and
provide them with a sense of identity and continuity, thus promoting respect for cultural diversity and human creativity,"