Bestu Varas : Gujarati New Year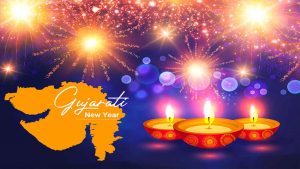 Gujarati New Year or Bestu Varsh is being celebrated on October 26, 2022
In Gujarat, the New Year which is popularly known as Bestu Varsh is celebrated as part of the five-day Diwali Celebrations.
Ideally, Gujarati New Year falls on Pratipada of Shukla Paksha in the Kartik month; therefore, it is generally celebrated on Govardhan Puja during Diwali.
People begin their New Year by visiting temples in the morning.
Homes are decorated with Asopalav torans and marigold flowers, and attractive Rangoli at the entrance to welcome guests on the New Year.