Blue Flag Tag: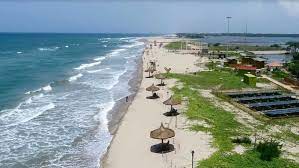 Two beaches in Lakshadweep received international eco-label "Blue Flag".
Minicoy Thundi Beach and Kadmat Beach in Lakshadweep recently entered into the coveted list of Blue Beaches.
These two beaches have a dedicated staff to maintain cleanliness and provide safety and security for swimmers.
With these new entrants, India currently has 12 beaches with Blue Flag certification.
Other beaches in the blue list are Shivrajpur (Gujarat), Ghoghla (Diu), Kasarkod and Padubidri (Karnataka), Kappad (Kerala), Rushikonda (Andhra Pradesh), Golden beach (Odisha), Radhanagar (Andaman and Nicobar Islands), Kovalam (Tamil Nadu) and Eden (Puducherry).
Golden Beach in Puri was the first in Asia to receive Blue Flag certificate.
In 2021, Kovalam beach in Tamil Nadu and Eden beach in Puducherry received the blue flag tag.
A 30-km stretch of the Marina Beach in Chennai is currently being developed for receiving Blue Flag Beach certification. The government has allocated Rs.100 crore for the implementation of this project.
Blue Flag Certification:
The Blue Flag Certification is an eco-label awarded by the non-profit Foundation for Environmental Education (FEE).
It is obtained by a beach, marina or sustainable boating tourism operators in the FEE member countries after complying to 33 stringent environmental, educational, safety-related and access-related criteria.
The blue flag certification is seen as an indicator for high environmental and quality standards of beaches, marinas and sustainable boating tourism.
Foundation for Environmental Education:
The Foundation for Environmental Education (FEE) is a non-governmental organization based in Denmark.
Its objective is to promote sustainable development through environmental education.