Bharat Mandapam : International Exhibition-cum-Convention Centre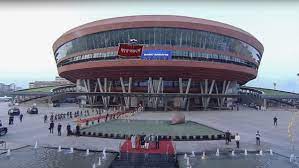 Prime Minister Narendra Modi inaugurated the International Exhibition-cum-Convention Centre (IECC) complex, which has been christened Bharat Mandapam.
This monumental project, developed as a national endeavor at an estimated cost of approximately Rs 2,700 crore, aims to showcase and promote India as a global business destination.
During the grand opening ceremony, Prime Minister Modi unveiled two remarkable items – the G-20 coin and G-20 stamp.
The significance of these unveilings reinforces India's growing role in international affairs, solidifying its position as a key player in global economic and diplomatic arenas.
The IECC complex sprawls across an extensive campus area of approximately 123 acres, making it India's largest Meetings, Incentives, Conferences, and Exhibitions (MICE) destination.
The convention centre is equipped with state-of-the-art facilities, including multiple meeting rooms, lounges, auditoriums, and an amphitheater, designed to host large-scale international exhibitions, trade fairs, conferences, and prestigious events.