Integrated Command And Control Centres: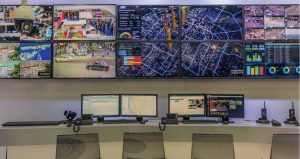 The government has announced that 80 of the 100 planned Integrated Command and Control Centres have been set up, with the rest to be completed by August 15.
The Smart Cities Mission (SCM) includes setting up ICCCs for each city as a vital step.
They are designed to enable authorities to monitor the status of various amenities in real time.
They are aimed at controlling and monitoring water and power supply, sanitation, traffic movement, integrated building management, city connectivity and Internet infrastructure.
These centres will now also monitor various other parameters and are also linked to the CCTNS (Crime and Criminal Tracking Networks and Systems) network under the Ministry of Home Affairs (MHA).
The ICCC acts of a smart city acts as a "nerve centre" for operations management. It processes a complex and large pool of data sets at an aggregated level. For example, it is now the go-to source for integrated traffic management monitoring.
Smart Cities mission:
GoI launched the smart cities mission in 2015.
The cities were given five years to complete the projects under the mission, with the first set of Smart Cities expected to complete in 2021.
The objective is to integrate city functions, utilize scarce resources more efficiently, and improve the quality of life of citizens.
It is an innovative initiative under the Ministry of Housing and Urban Affairs.
It is a Centrally Sponsored Scheme.