Suposhit Bharat Initiative: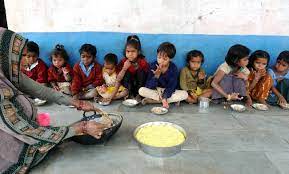 According to the Ministry of Women and Child Development, more than 15 crore activities were conducted on various themes across the country during the 5th Rashtriya Poshan Maah from 1st to 30th of September contributing to the Prime Minister's vision for a Suposhit Bharat.
Through the Suposhit Bharat initiative, the government intend to conceptualize, develop, pilot and scale up food-based nutrition interventions through food services at institutional food services' level, and street foods, school & college canteens.
This will therapeutically address malnutrition and non-communicable diseases in the general population.
POSHAN Abhiyaan is a multi-ministerial convergence mission with the vision to ensure attainment of malnutrition free India.
POSHAN Abhiyaan provides a platform to converge the activities of various stakeholders towards attaining the goal of 'Suposhit Bharat'.